High-power laser developer AIM Defence has acquired Brisbane high altitude drone startup NearSat. Known for its high precision anti drone lasers, AIM Defence plans to integrate the technologies to develop distributed laser communications and directed energy capabilities.
The deal keeps the Telstra-backed NearSat and its fleet of solar-powered high altitude 'pseudo satellites' that provide earth observation and connectivity in Australian control and the domestic supply chain.
AIM Defence — which has developed lasers that can hit a 10 cent piece on a drone flying 100 kilometres an hour — is celebrating the acquisition and its strengthened directed energy capability as a showing of a globally competitive niche capability, with potential to be as common as the Australian-invented blackbox.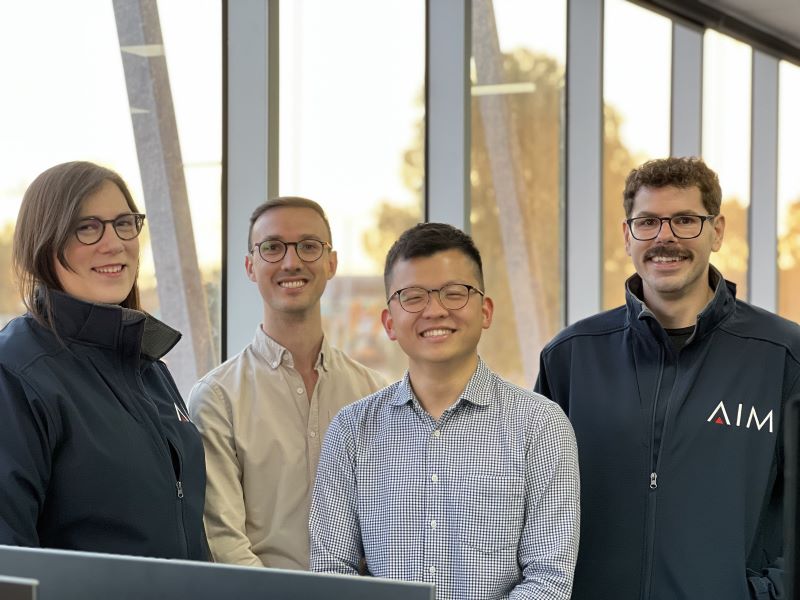 AIM Defence is a high precision, high power laser startup based in Melbourne. It was founded three years ago by Jessica Glenn and Dr Jae Daniel, who worked with the Defence Science and Technology Group.
Its core system family "Fractl" can target a precise location on a drone flying at 100km/h, 1km away, according to the company.
The high-powered laser is so precise and so powerful it can target individual components on a drone and effectively apply a blow torch to them.
"We can burn off the camera of the drone itself and stop that from seeing," cofounder Dr Daniel told InnovationAus.com.
"[It is] that directed energy where you don't actually need the kinetic effector. So you don't need to use a magazine of bullets that takes a supply chain. You can actually use electricity and convert it to light and then remotely affect the drone."
AIM Defence weapons are much smaller too, compared to overseas competitors' which typically need a shipping container sized footprint for similar lasers.
"Ours fit in the back of a four wheel drive really easy. That's the difference," cofounder Ms Glenn said.
"We talk about how do we make tactical directed energy while everyone else worries about how can we ship a shipping container to a location."
AIM Defence has acquired NearSat for an undisclosed amount and won't reveal exactly what parts of the Brisbane startup's platform it targeted.
NearSat is a graduate of the Telstra startup program Muru D and has been developing the world's first taskable constellation of near-Space satellites.
The solar powered drones can fly at 60,000 ft for months at a time, performing the function of a satellite at a fraction of the cost, according to the company.
NearSat's ingenuity, resourcefulness and world-leading ways of making lightweight airframes for high altitudes stood, Dr Daniel said.
"What we see is this kind of ingenuity where they're really pushing what you can do with a shoestring budget — what can you really achieve, which is [with] a hundredths of what another country like America would spend on these kinds of systems.
"We're really excited to roll those technologies in house."
The deal coming just months after the company was name-checked by Industry minister Ed Husic.
Mr Husic toured its facilities ahead of the launch of his signature $15 billion National Reconstruction Fund, touting the startup's world leading defence capabilities.
"In the [National Reconstruction Fund] we've identified a priority area in defence where we can build up that capability and make sure they they've got the capital," Mr Husic said at the National Press Club in November.
"Like AIM Defence and others that are seeking it, so that they don't have to go offshore, dilute their ownership…"
The acquisition announced Sunday caps of a busy summer period in which AIM Defence has rubbed shoulders with the Prime Minister, met with the Australian Defence Forces Chief of Joint Capabilities and hosted the chair of the Senate's Foreign Affairs, Defence and Trade Legislation Committee Raff Ciccone at its Melbourne facility.
The Canberra connections follow several research agreements with the Defence Science and Technology Group, including a $300,000 grant from its Next Generation Technologies Fund.
Ms Glenn said the future of Australian defence industry is more specialised but world-leading capabilities that can be widely exported.
"We hear this rhetoric at the moment coming from the Minister of Defence and the Minister for Defence Industry is we actually can't build everything. And that's probably very true," he said.
"What Australia does need to do is pick a couple of key strategic sovereign capabilities that we back in, both so that we have the ability to build things in Australia and also so that we have something that we can trade with our key partners and key allies around the world."
She points to globally exported Australian technologies like CEA radar as an example.
"CEA radar has been a boon for Australia, both from an export point of view, but also from a diplomacy and partnerships point of view… You just have to pick a couple where you say, 'Australia can be competitive across the board'," Ms Glenn said.
"It's not just that it's sovereign capability, it's the best in the world that happens to be here. And then you need to back those companies very thoroughly."
Dr Daniel said the AIM Defence directed energy technology has the export potential of the blackbox cockpit recorders invented by Melbourne defence scientist David Warren in the 1950s.
"Technologies like the directed energy we're developing has the ability to be that next wave for things like the black box — Really smart Australian ingenuity being deployed across the entire globe," he said.
"We see our system protecting airports, protecting bases, that kind of thing, and we're really committed to seeing that made here in Australia."
Do you know more? Contact James Riley via Email.