It was the government's decision to exclude the ABC and SBS from the news content bargaining code with Google and Facebook rather than the competition watchdog which designed the scheme, ACCC chair Rod Sims has said.
Mr Sims told an Australia Institute webinar on Thursday that the Australian Competition and Consumer Commission (ACCC) did not provide any advice on whether the publicly-funded broadcasters should be covered by the draft bargaining code between media companies and Facebook and Google.
The code requires the tech giants to agree on revenue-sharing deals with media companies for the posting of content on their platforms within three months or enter into forced arbitration, where an independent panel would select one of the final offers.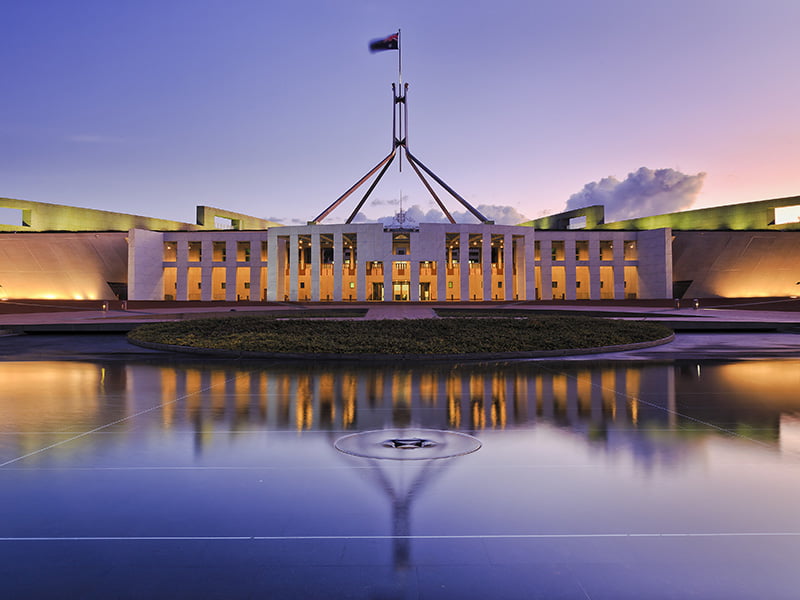 The draft legislation does not extend the code to the ABC or SBS, and this decision was made by the Coalition, Mr Sims said.
"We did not provide advice on that issue, we took the view that's one for the government and one for Parliament to resolve, and I look forward to seeing how they do that," he said.
"Our view was that since the government funds the ABC and SBS, that it's really an issue for government to decide. The other factor that was in our mind was the question of whether the ABC gets involved in what was really a commercial operation is really an issue for government."
The Greens earlier this week said its support of the bargaining code legislation would be contingent on it being extended to ABC and SBS.
Mr Sims responded to several of the criticisms that have been levelled against the ACCC code, including that it will function as a News Limited "subsidy", would force the tech giant's to give over access to their algorithms, and that the government should instead look to implement a digital tax on Facebook and Google.
The government and ACCC are currently consulting on the draft legislation, with the competition watchdog to hand the final version over in October.
Facebook and Google have railed against the proposal with very public campaigns.
Facebook has threatened to ban all news content for Australian users, while Google said the code would damage its main services like search.
The ACCC is working with these companies on the draft, and changes would be made, Mr Sims said, but the core elements of the scheme, the forced arbitration and non-discrimination clause which requires the tech companies to treat the content of companies with a revenue-sharing deal the same as others, would remain.
These are the elements – the "glue" holding the code together – which would be crucial in ensuring Australia is successful on this issue where many others, including Spain and France, have failed, he said.
"What we've put out is a draft code – it's only a draft. We would look a bit silly if we didn't make any changes to a draft, we'd look a bit pig-headed. There will be changes, they'll come from the discussions with Google and Facebook and the news media businesses," Mr Sims said.
"It's a draft and a draft is meant to illicit comment, and we've got a lot of comments. We're sifting our way through that and there will be changes."
The competition tsar indicated that there would be changes made to the wording around the sharing of information on algorithms and data to address some potential unintended impacts that both Google and Facebook have flagged.
"Google's reaction to the algorithm notice changes and the data issues were ones we did not intend. They have read things in there that we don't think are there. We will certainly clarify those. I'm hopeful those will no longer be issues," Mr Sims said.
The tech company's claims, made publicly across their platforms, that the code will give media companies access to their algorithms and the ability to interfere with them are incorrect, he said.
"That's not what the code says, that's not what we meant, so we will engage with them and clarify with that so there's no way the news media businesses can interfere with the algorithm," Mr Sims said.
And it's also not the case that Facebook and Google will be forced to provide more data on users to the news businesses, he said.
"The code is quite clear that Google and Facebook only provide the data they want to provide, they already do provide some so we're just trying to clarify what that is and so people understand how best to use it," he said.
"We'll clarify things where we need to and we're engaging strongly with Google and Facebook, but we understand they'd rather the code not be here."
He also hit back at claims that the code is merely a "subsidy" for News Limited and will do nothing to help smaller news companies.
"This isn't about News Limited. This is about helping news media businesses survive and prosper. This is nothing to do with a subsidy," Mr Sims said.
"If you had a competitive market you wouldn't need this. Because you've got this massive bargaining power imbalance you can't have proper negotiations so that's what we're trying to facilitate," he said.
Mr Sims said the argument that the government should look to implementing a digital tax instead of the bargaining is a "red herring".
"The digital tax is all about whether they are paying appropriate tax or if they are avoiding their tax obligations. Fix that as its own issue – it's a completely different issue," he said.
"If they pay the appropriate amount of tax it can go into consolidated revenue, build more schools and provide more social security."
Do you know more? Contact James Riley via Email.