Innovation has a clearly defined price ticket at the Art Gallery of NSW: its $344 million. Raising the funds is also something of an existential challenge for gallery's director, Michael Brand.
Dr Brand's position has been advertised, and while he is expected to reapply, his reappointment may rely on his ability to secure the final funding for Sydney Modern – the major innovative extension to the gallery planned for 2021 which has been designed to reimagine the way that art is accessed.
According to the AGNSW's most recent annual report, Dr Brand is around $20 million shy of the total target; the government has stumped up $244 million, and a further $80 million of donations has been pledged.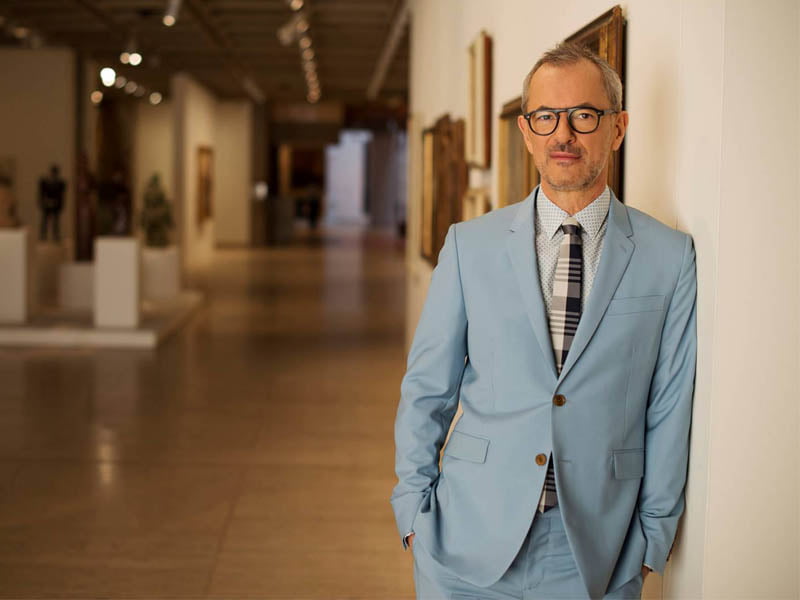 While the gallery itself can innovate, Dr Brand does not believe the world's major art galleries can be completely digitally disrupted.
Although technology may expand the ways people access art, produce art, protect and ensure its provenance – he believes that galleries would always play an important and irreplaceable societal role.
"Looking at works of art in an art museum is a fully three-dimensional experience, that is not replicable online or in a book. Online and books are terrific – but you have to be there just like you have to be in the restaurant to taste the food," Dr Brand says.
Nevertheless innovation is important.
"All innovation is good. You have to keep innovating otherwise we would be like we were in the late 19th century," he adds.
"If you go to the early history of this institution and many others it was run by a board of trustees who were all old white males who were all appointed for life," and who never bought works by women artists, or non-Europeans.
Stale, male and pale is no longer part of AGNSW's makeup; the lead design for Sydney Modern comes from Japan's Sanaa, led by female architect Kazuyo Sejima. According to Dr Brand the new building would offer "new, more fluid, types of engagement with art – experiential, speculative and responsive."
However he notes that amid all the innovation: "We have to be careful that we don't lose that engagement and interaction between a work of art and one or more humans. You don't want to innovate that. You can increase the number of ways you can interact, but an art museum is about that interaction.
"I think the idea of civic spaces and civic responsibility for fostering relevant debates in creative ways that only artists can and in a non-commercial space where people can express difference and meet people from different places. it can be quite idealistic and we should never innovate out idealism either," says Dr Brand.
While digital technology has extended access to art collections from around the world, Dr Brand says that art is three dimensional and benefits from being viewed physically rather than digitally.
"These are 3D objects, the paint is thick, the frames are three dimensional there is a back to painting with notes and dates and alludes to the auction it was bought at, the exhibitions it has been seen at, there are fingerprints.
"If it is a matt surface that is not going to come across on a computer screen.
"You can say some people are not going to care. But if you can get the idea that even a painting is three dimensional then the whole thing about a museum is experiencing art which is always three dimensional in a three-dimensional space.
"That is the difference between a book at home, a computer screen or lecture hall."
Dr Brand says two overarching roles for the AGNSW are to collect and care for its collections and to provide access to them.
"The third is what role we can play in being part of a debate and also putting new ideas out there and new ways of interacting with the art and ideas whether it's through technology or whatever else. That is where there is more fluidity and change."
Dr Brand acknowledges the role technology plays in helping art galleries fulfil all its roles, whether it be curating vast databases of information and online catalogues allowing global access to art scholars and researchers, developing hand-held device gallery guides for visitors, or exploiting technologies that use non-invasive techniques to analyse paint composition.
But technology won't be a drawcard for new audiences. "You are not going to attract them to a museum just because you have a few things on a smartphone – you've got to be smarter than that – playing to the levels of what they are comfortable with and used to, but not trying to replicate or improve on what they are doing with gaming or VR."
Ultimately he believes that; "The more you get virtual there is a moment where people start to revalue the real and the actual."
As to the value of art in society – Pablo Picasso's definition still resonates; "Art washes away from the soul the dust of everyday life."
And there's a lot of dust in the digital era.
Do you know more? Contact James Riley via Email.