Four South Australian space companies have signed a memorandum of understanding to explore the launch of a rocket and spacecraft carrying an interfaced electronic warfare payload.
ATSpace, Inovor Technologies, Asension (formerly DEWC Systems) and Southern Launch have teamed up to explore launching from Southern Launch's facility at Whalers Way near Port Lincoln.
The proposed Whalers Way Orbital Launch Complex is still undergoing an environmental assessment by PlanSA. Southern Launch currently operates a single launch pad at the site and is licenced to undertake just two test launches by the end of the year.
The memorandum of understanding (MoU) was signed on Wednesday at the South Australian Aerospace and Information Warfare Forum in Adelaide, with Defence SA chief executive officer Richard Price in attendance.
If the launch is undertaken, which has yet to receive a licence from the Australian Space Agency, the spacecraft will be onboard ATSpace's Kestrel I 10-metre two-stage sub-orbital launch vehicle.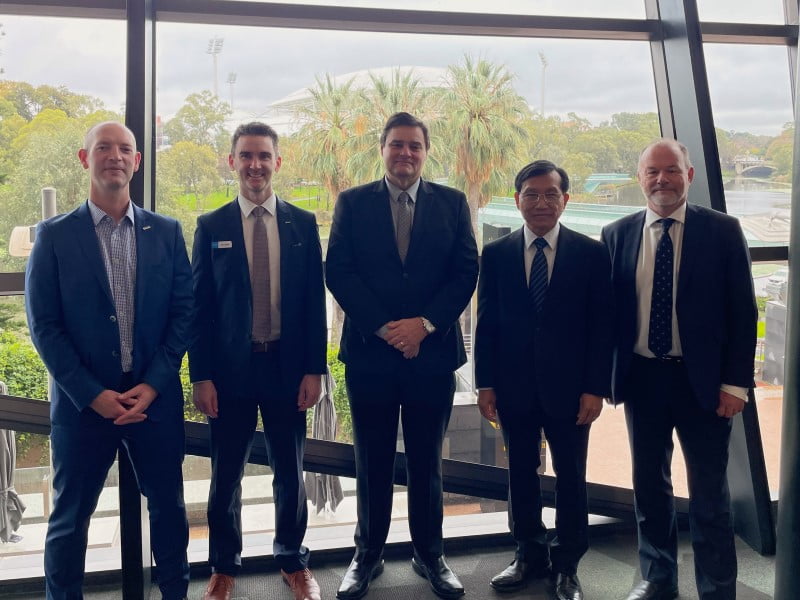 Inovor Technologies will design and manufacture the spacecraft while Asension will design and build the electronic warfare payload. They will collaborate on the technology interface between the payload and the spacecraft. The mission is also an opportunity for Inovor to test its communication protocols in suborbital flight.
Southern Launch chief executive Lloyd Damp said it was important for South Australian firms to collaborate in delivering a sovereign space capability.
"This MoU brings four space companies together to develop an Australian first, a sovereign end-to-end space capability covering payload development, rocket manufacture, and launch into space. This is a celebration of sovereign space capability realisation with all work to be done here in South Australia," Mr Damp said.
ATSpace founder and chief executive Dr YenSen Chen said that the collaboration would enable Australian access to space in a "cost-effective and responsive manner" as domestic space tech business opportunities grow rapidly. Inovor Technologies founder and chief executive Dr Matt Tetlow echoed a similar sentiment and said the opportunity for local engineers to get hands-on mission experience is invaluable.
Asension chief executive Ian Spencer praised the strength of South Australia's space industry.
"In South Australia we are very fortunate to not only be home to the Australian Space Agency but to also have a growing ecosystem of space companies dedicated to the establishment and operation of a world class and sovereign space industry capability," said Mr Spencer.
The first test launch at Southern Launch's launchpad at Whaler's Way was undertaken in collaboration with Taiwanese rocket manufacturer TiSPACE in September 2021. However, the launch was ultimately unsuccessful after the Hapith rocket caught fire after the third failed launch attempt.
There are ongoing concerns among local residents and conservation groups about conducting rocket launches from Whaler's Way. According the a Terrestrial Ecological Assessment commissioned by Southern Launch as a part of its Environmental Impact Statement released in August 2021,  two vulnerable bird species "have been recorded within and in close proximity to the Project Area" with an additional species considered "likely to occur".
The land is also protected under a heritage agreement with the South Australian Department for Environment and Water, the boundaries of which will be realigned should construction of the launch facility be approved. The total area of vegetation covered by the heritage agreement will remain the same following the realignment.
Editor's note: This article has been updated to include information from Southern Launch's Environmental Impact Statement.
Do you know more? Contact James Riley via Email.