Australians are the tenth most "data surveilled" citizens in the world, according to analysis of data requests by government authorities to Big Tech companies over the last eight years, a period where Australia has introduced several pieces of controversial national security legislation.
Australian authorities have made around two data requests for every 1000 people since 2013 and access requests are also trending up, according to VPN provider Surfshark, which overnight released analysis of 66 countries' request for user data from Apple, Google, Facebook, and Microsoft.
Adjusted for population, Australia ranks 10th, with Malta, Singapore, Germany, the UK and US in the top five.
The 66 countries analysed have made more than 3 million data access requests to Big Tech in the eight-year period, with the companies more often than not providing partial or full disclosure to authorities.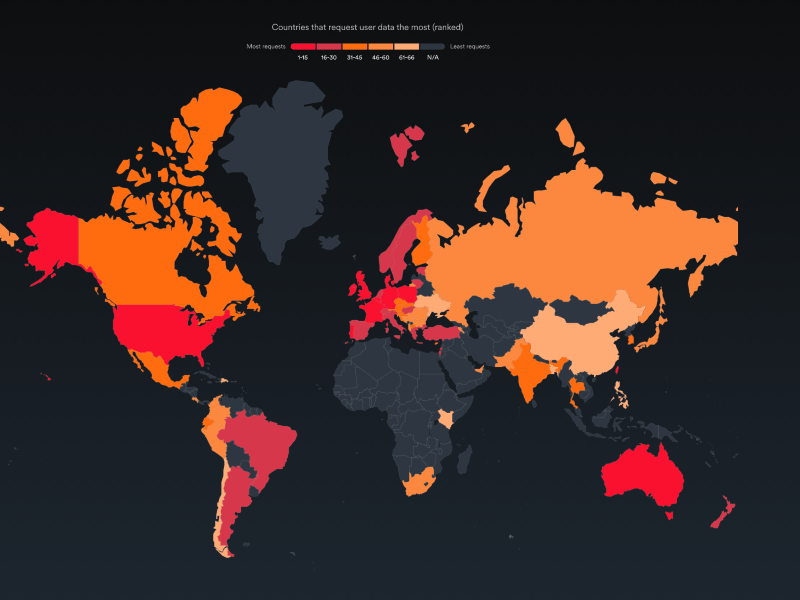 But the four companies vary in compliance with requests. Facebook disclosed information for 76 per cent of authorities' requests while Apple only handed it over 55 per cent of the time. Microsoft has trended down and now discloses information for 61 per cent of requests after being as high as 79 per cent in 2013.
Amazon was not included in the analysis, which is based on the companies' self-published data, because the ecommerce and data giant does not consistently report the information.
Facebook's own transparency data shows Australian authorities have steadily made more requests for user data since 2013, including a jump last year that saw more than 3,000 requests, including nearly 150 "emergency disclosure requests".
Facebook gave Australian authorities data for 80 per cent of their requests last year, and says the "vast majority" of requests related to criminal cases.
The rise in requests has come as digital platforms rise in popularity and countries introduce or amend laws to allow increased access to communications for national security and law enforcement reasons.
In late 2018 the Australian Parliament passed controversial "encryption busting" laws allowing authorities to compel encrypted communications from providers. While used sparingly so far, the new powers have potentially wiped billions from the economy.
Along with more recent legislation for content takedown and data sharing with international authorities, civil and digital rights groups have warned the mission creep of data access powers is pushing Australia further towards a surveillance state.
Surfshark chief executive Vytautas Kaziukonis said the latest analysis showed digital surveillance is growing around the world.
"During the past years, the world has witnessed widespread adoption of physical and online surveillance tools," he said.
"An increasing number of governments are deploying a range of surveillance technologies under the promise of maintaining order and public safety. However, it is evident that the seek to track and monitor citizens can be far more overreaching and infringe people's privacy."
Do you know more? Contact James Riley via Email.