The value of consulting giant Deloitte's contracts with the Digital Transformation Agency increased by more than 1,000 percent in 2020 over the previous year, with the company's overall government pay-cheque up by more than a third during the pandemic year.
While last year saw Deloitte at one stage cut pay for all employees by 20 per cent and lay off 700 people from its 10,000-strong Australian workforce, the firm has enjoyed bumper growth during the pandemic, including from numerous contracts with the federal government.
According to an InnovationAus investigation, Deloitte's total earnings from government work in 2020 was $214 million, up from $156.7 million in the previous year.
The total value of all contracts and ongoing contracts awarded to Deloitte that were active in 2020 was $508 million.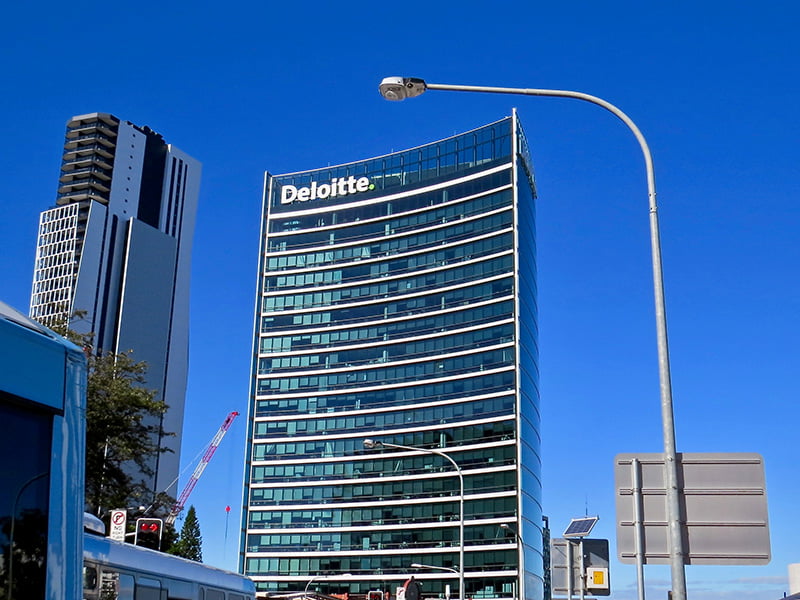 A big chunk of this work came from Services Australia and the Digital Transformation Agency, key departments and agencies for the government during the ongoing COVID-19 pandemic, with Deloitte also working on the redevelopment of myGov and a new visa processing platform, among other projects.
The government's spending and focus last year was dominated by the pandemic, with departments and agencies increasing their reliance on outsourcing and private contractors.
InnovationAus analysed all contracts worth $100,000 or more posted to tenders.gov.au that were active during 2019 and 2020. Our goal was to compare spending during a pandemic year – 2020 – and compare it to 2019, before the pandemic to compare 2019 to the pandemic year of 2020. The reporting structure involves the reporting of any contract that is active in that period. The analysis calculated the value-per-day of multi-year contracts and applied only the number of days the contracts were active during in each year.
The methodology has its short-comings but provides a far clearer picture of calendar-year spending than is available through tenders.gov.au.
The total spending by the federal government with Deloitte using this methodology climbed from $156 million in 2019 to more than $214 million in 2020, an increase of more than $57.5 million – or 36 per cent during the pandemic year.
The total value of contracts awarded to Deloitte that were active in 2019 was $344.5 million, ballooning to $508.1 million worth of contracts with Deloitte that were active during 2020.
Deloitte's work with the DTA increased by a staggering 1,189 per cent, from $2.3 million in 2019 to $27.6 million last year. The bulk of this funding came from Deloitte's dominance over the myGov redevelopment project being led by the DTA and which remains in its early stages.
Deloitte was initially awarded a near-$1 million contract at the start of 2020 to develop a prototype of a revamped myGov platform as part of a "90-day sprint". It was subsequently awarded a contract first worth $9.5 million to turn this prototype into a working beta.
The value of this contract ballooned throughout 2020 across a series of unexplained amendments to the original contract, worth a total of $27 million by the end of the year. Deloitte has continued working on the project through contracts with Services Australia worth more than $5 million.
The DTA also handed Deloitte $400,000 over three weeks last year for "online portal design, development, testing and implementation".
The value of Deloitte's work with the Department of Industry, Science, Energy and Resources more than doubled last year from $8.1 million in 2019 to $16.6 million in 2020.
This work included a new platform to deliver the research and development tax incentive, now worth $2.2 million and expected to be launched within months.
A number of Deloitte's contracts with the Industry department were for the purchase of IT services, professional advice and project management services. Its work on the small business digital champions project also earned Deloitte about $2.4 million in 2020.
The department also awarded Deloitte a contract worth $33.7 million over three years for "business facilitation services" thought to be associated with its Entrepreneurs Programme.
Deloitte's work with the Department of Defence also increased by more than 25 per cent during the pandemic year, jumping by nearly $19 million, mostly for management advisory services and computer services.
Deloitte's performance during has been so strong that the firm recently opted to repay its entire staff the pay reduction it implemented in April last year at the onset of COVID-19.
Do you know more? Contact James Riley via Email.